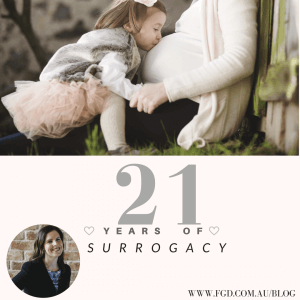 Surrogacy is a personal experience and often not spoken broadly about. It can be confusing for some to get their head around the concept and the legalities of the process.
However, surrogacy is openly spoken about in my family as my mother Donna gave birth to my "cousin" Jessica on the 7 August 1996 in the ACT and became the first legal pre–conception surrogacy arrangement in Australia.
This arrangement came into place when my Aunty Leanne was unable to carry a baby and her and her husband, Alan, decided that they would explore the idea of surrogacy. Alan's sperm and Leanne's eggs were used to create an embryo which was then implanted into Donna's womb and after a few attempts Donna fell pregnant with Jessica.
When Jessica was born, Donna was recorded as her birth mother and Alan was recorded as her father. Although Jessica lived with Leanne and Alan since birth, the law at the time meant that her 'parentage' was unable to be transferred from Donna to Leanne.
It has since become a running comedy in my family when Jessica mentions or is required to present her birth certificate for an application or as a type of identification. As Donna and Alan are brother and sister, it can be confusing and you can understand why people ask questions!
The law these days allows for the parentage to be transferred from the surrogate and her partner, to the 'intending parents' (referred to as the 'substitute parents' in the ACT) by making an application to Court for a parentage order. A new birth certificate can then be issued.
It is very important that you get legal advice before entering into a surrogacy arrangement. Farrar Gesini Dunn can prepare the required documents for a surrogacy agreement and give you the advice you need to avoid the awkward and prolonged conversations. We can help you understand your rights and obligations when entering into or considering a surrogacy agreement.
If you are considering surrogacy and would like to obtain some legal advice, give us a call and book an appointment to see Kirsty McLeod in our Canberra office.
Blog By: Madeline Hill
Madeline work as Assisting Secretary at Farrar Gesini Dunn, Canberra.