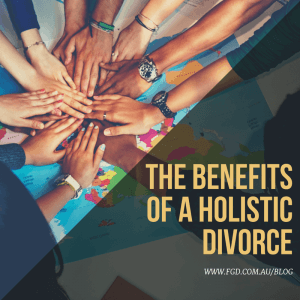 When separating, it is important that your lawyer is able to not only provide you with the legal advice you need but to have the courage to guide you towards other professional services that are designed to get your life on track. I've heard frightening stories of separating parties needing 5 or so years to recover after a divorce in terms of finances, their emotions and their sense of security. If you're going through a health crisis, you'd like to know that your physician not only treats your symptoms but your underlying condition causing your symptoms.
Separation is the second most traumatic grief event that a person can experience aside from death. I'm astounded by the impact that such professionals have when I look to my own practice, and to those who have taken up the advice by seeing a mental health professional for example.
Clients have learned strategies to cope after separation not only in relation to their parenting but to help unpack the process of separation and to process it in a healthy way.
At FGD, we're excited that  recently Amy McGinn has joined us as our in-house Family and Child Specialist. We're incredibly proud to have her on board to provide clients with some strategies and advice to help them cope with separation as part of a holistic divorce.
Amy  joins us in our Canberra office, but will be a regular here in Sydney once she finds her feet and can sit in on sessions with your solicitor to help develop child focused strategies. It's part of our philosophy of promoting holistic divorce and to promoting a healthy separation.
It's another thing that sets us apart.

Daniel Rod is a Family Lawyer at Farrar Gesini Dunn, Sydney Office.