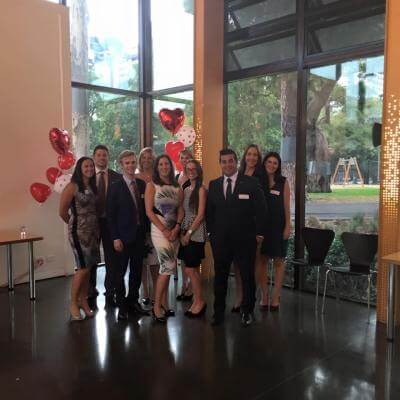 Last Friday night saw the inaugural FGD Melbourne Valentine's Day event take place at the City of Melbourne Bowls Club in Flagstaff Gardens. If you're wondering what business a family law firm has in celebrating a day dedicated to romance & love, well we do pride ourselves on doing things a bit differently.
Despite the stormy Melbourne weather preventing any lawn bowling, the event was a lot of fun and the lack of any bowling banter soon forgotten as people enjoyed the beer/wine, ice-cream sandwiches (a first for me) and DJ Frank's musical contributions.
The event was attended by friends, colleagues, clients and other professionals from various backgrounds (accountants, barristers, financial planners, mortgage brokers, valuers and psychologists etc) and was a great demonstration of how rapidly the Melbourne office has grown in the last 12 months. When I joined the firm with Leila a year ago, the numbers increased from 2 to 4 people, and with Frank our latest recruitment last month, we're up to 10!
The guest-list also reflects our need as family lawyers to bring others into the fold, namely it's important in many cases to rely on specialists in other fields to work alongside us and our clients, whether dealing with financial or parenting matters. By having a broad network of other professionals that we trust we can be confident about referring clients to the right person for them and their particular needs.
If you have any questions about any aspect of a divorce or separation please give us a call and our lawyers will be more than happy to help you out.