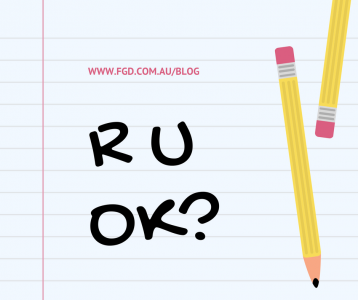 R U OK?
When was the last time you asked someone if they were OK?
At Farrar Gesini Dunn we work in a difficult space and we understand that our clients are at times experiencing heightened emotions which can include;
Anxiety;
Uncertainty;
Fear;
Shame;
Grief;
Joy;
Relief; and
Everything else in between.

In your daily interactions, how often do you find someone asking R U OK?
R U OK Day was founded as an entry point for discussions and to create an opening for people to check in with others. As a family law practice, mental health awareness is vital when considering our interactions with clients.
Through the 22 years, Farrar Gesini Dunn has been practicing it became evident that we needed to take the extra step to support our clients and have our own in house Child and Family Specialist. Amy McGinn takes notice. Amy supports our client's emotional well-being, our team and the daily practice.
With having Amy on board within our team we became more proactive with mental health awareness. In doing so we have become signatories to the Tristan Jepson Memorial Foundation. The foundation was founded in August 2008 by Tristan's family to raise awareness and funding of mental health following the suicide of their son Tristan Jepson who was a young lawyer.
If you or someone you know need crisis support, call life line now on 13 11 14. If life is in immediate danger call 000. Alternatively refer to the below link for the crisis support chat between 7:00 pm and 4:00 am 7 days a week (Sydney time): https://www.lifeline.org.au/get-help/online-services/crisis-chat.
This is how Farrar Gesini Dunn supports R U OK Day and the ongoing mental health awareness of our clients and team. How will you show your support today and each day?
Authors: Madeline Hill, a Personal Assitant and Linda Kaczmarek, a paralegal at our Canberra Office.
For the latest news, subscribe to our blog