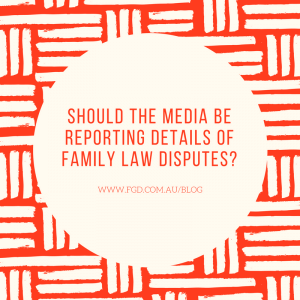 I was surprised to learn that there was a recent article setting out details of the settlement between Karl Stevanovic and his wife Sandra Thorburn.  Furthermore the newspaper reported that in the Stevanovic divorce, Mr Stevanovic "put up very little resistance during the negotiations". Section 121 of the Family Law Act sets out in great depth that it is an offence to publish in a newspaper, radio, television or other electronic means, any account of any proceedings or part of any proceedings under this Act which would identify a party to the proceedings, a person who is related or a witness in the proceedings.
If the agreement was entered into by way of consent orders, there is the possibility of this being considered proceedings and would fall foul of this section.
The purpose of this legislation was to ensure the privacy and the health of all parties involved in family law proceedings and to serve as a mechanism to prevent the reporting and sensationalisation of family law proceedings.
It is worth noting that this particular matter may fall out of the scope of section 121 due to the fact that it may have rather been settled by way of a Financial Agreement.
By entering into an agreement known as a Financial Agreement, the division of assets pursuant to the Family Law Act does not constitute proceedings so to speak.
That said, usually in high profile cases such as these, the Agreement would likely also contain a confidentiality clause.
Increasingly, many media organisations are treading closer and becoming more daring in their reporting of family law matters.
In my career as a family lawyer, I have taken the view that there is a place for the reporting of proceedings, however it must be done in such a way that protect the identity of the persons involved.
It is a matter for Mr Stefanovic and Ms Thorburn as to their financial division and the direction of the parental relationship and care of the children.
In circumstances where the newspaper actually refers to Mr Stevanovic, Ms Thorburn, and their children, one would hope the media uses discretion and sensitivity in such matters.

Daniel Rod is a Family Lawyer at Farrar Gesini Dunn, Sydney Office.