Family Law, Silver Separations and Superannuation
We are seeing an increasing trend of what is known as silver separations. These are separations or divorces of couples who are past retirement age, that is, people over the age of 60. Gone are the days when people thought that there was no life beyond 60.
The Baby Boomer generation which are now retiring grew up with the philosophy that life should be enjoyed. They are now retiring, the kids have left home, they are financially secure and don't have any commitments. They also see that their parents are (often) still alive and realise that they have so much more life to live – why spend that in the prison of an unhappy relationship or a relationship that is no longer working?
Quite often these relationships fail not because the couple fall out of love for each other but because the relationship does not do anything for them anymore. Perhaps the newly retired find that they don't find their relationship fulfils them any more now that kids and/or work are not there any more to divert attention. They find the relationship is holding them back from what they want to do. At 60 they still feel they have a lot to offer the world. Retirement from work does not mean retirement from the world.
Silver separations have their own unusual features which differentiate them from the usual separations that occur with younger people. Quite often we are looking at relationships that have been in place for forty years or more. There are no parental responsibilities any more however one or both party may have the responsibility or will have the responsibility of caring for an elderly parent. They also usually don't have the financial pressures that younger couples have such as paying the mortgage.
The flipside of course is that their income largely comes from aged pension, superannuation or from investments rather than a salary. For younger people superannuation can be somewhat ephemeral – it is real and does have some value but access to it is sometimes so far away younger people often do not give it much consideration.
When you are retired superannuation becomes an important pillar of your lifestyle and must be carefully considered, not so much in the face value of the superannuation but the income it can give you over time by way of a pension. Both parties have an interest in maximising their retirement income. No one wants to spend their twilight years struggling to make ends meet. I have seen matters where appropriate advice has not been sought and as a result clients now regret it, especially seeing their former partner planning their next golfing trip to Paris while you are stuck at home without enough to even go to Sydney for a weekend.
This is where getting expert and tailored advice is important. Separation can be one of the biggest transactions you will have to make in your life. If you are a retiree you do not have the luxury that younger separating couples have to pull yourself up after separation; you need to hit the ground standing. This is where getting the advice of a lawyer who understands your particular needs is important.
I specialise in superannuation and give advice to clients and other lawyers all over the country about the best way to deal with their superannuation when separating. Even if you already have a lawyer you can always see me for a second opinion or get your lawyer to seek our advice on strategy. I recently assisted a client who went through just such a problem. She separated after some 60 years of marriage and the trustee of her husband's superfunds declined to pay her a death benefit. We were able to help her in pleading her case and in the end had a win against the Commonwealth. She will now be able to enjoy her twilight years without having to count every cent. I will talk a bit more about this particular example in a future blog post so keep an eye out for it.
If you are going through a silver separation and you want advice about how to deal with your superannuation you should give the team at Farrar Gesini Dunn.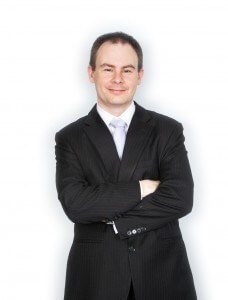 Superannuation expert Paul Salinas is part of our Estate Planning Team at Farrar Gesini Dunn.