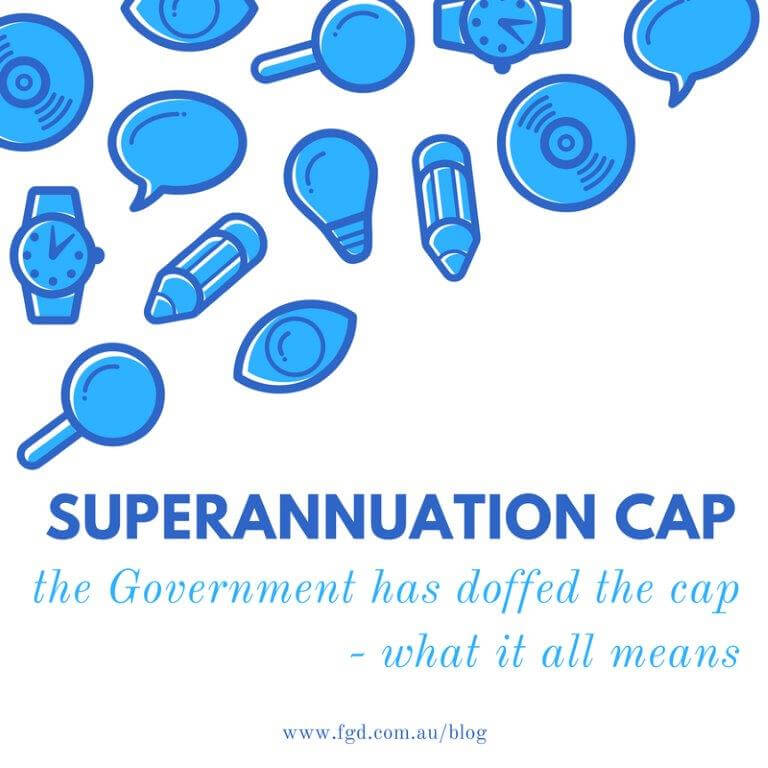 The Federal Government announced recently that they have changed part of their superannuation cap policy which they took to the election. This change was likely partly to sooth back-benches who since the proposed changes were announced in the May budget had expressed increasing concern but also partly to help the changes get through a hostile Senate.
You may recall my earlier blog post on Superannuation Death Benefits & Bankruptcy that one of the changes was the proposal to introduce a $500,000 superannuation cap on lifetime non-concessional (i.e. after tax contributions).
This was probably the most controversial of the proposed changes particularly as many people saw them as retrospective in nature as it was backdated to 2007.
The government has now announced that they have dumped the $500,000 superannuation cap and instead will do the following:
Allow the current non-concessional contribution caps to continue but lower the annual limit from $180,000 to $100,000
Limit non-concessional contributions to those who have superannuation balances under $1.6 million
The changes will commence on 1 July 2017.
These changes are from the writer's perspective a big improvement on the proposed policy. A $500,000 lifetime cap discriminates against those who do not have the fortunate circumstances in which to contribute early to their superannuation. A lot of people are not able to consider contributing additional monies from their after tax income until after they have paid off their mortgage or the kids have left home. It also allows those who have seperated, particularly women, to grow their superannuation after separation.
This is particularly relevant when considering that the Association of Australian Superannuation Funds (ASFA) Retirement Standard for a comfortable retirement for a single person is a lump sum of $545,000 or $640,000 for a couple (see http://www.superannuation.asn.au/resources/retirement-standard). I don't know about you but I would like to have a comfortable retirement when the time comes to retire.
One change which is not so good is that the current "work test" rule will continue to apply if you are over 65. This is contrary to the May budget when the work test rule was going to be dumped to allow people to continue to contribute to their superannuation after 65 regardless of their employment status.
From a strategic perspective as we no longer have to worry about the "retrospective" cap applying any more people won't have to worry as much as they were about making non-concessional contributions between now and July next year at the current non-concessional cap limit of $180,000.
It also makes it easier for people who are going through a family law property settlement to negotiate terms of settlement as they won't need to have the $500,000 cap in the back of their mind.
These changes have been welcomed by most players in the industry and give us all a lot more certainty than there was under the earlier proposals.
It should be remembered though that any changes to the law need to work their way through parliament and with the current makeup of the parliament there is no guarantee that it will get through with or without any further tweaks or at all.