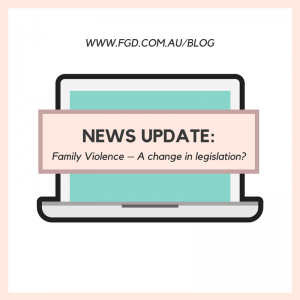 Last night I was reading an article published by Huffington Post in relation to new proposed amendments to the Family Law Act 1975 with respect to the cross-examination of parties in matters where there are allegations of Family Violence. But what are the proposed changes? How would they be implemented? Why is this being proposed? Lastly, when will these changes take effect?
The proposed changes
In summary, the proposed amendments put forward by Attorney-General George Brandis would see that self-represented parties are no longer allowed to cross-examine the other party in court proceedings where there is a conviction (or an allegation) of family/domestic violence. If the amendments were to be enacted, the court would also be granted discretionary power in matters concerning Family Violence to determine in what circumstances direct cross examination should be disallowed.
How would they be implemented?
In the current proposed amendment there is a provision which provides for the cross-examination to occur via a third-party. The person (to be allocated by the court) would conduct the cross-examination on behalf of the alleged perpetrator. The article further explained that cross-examination would not need to occur via a third party if the alleged perpetrator was legally represented.
Alternatively, a third party would not be required in circumstances where the both parties agree to the cross-examination. However, the Court would also be required to consider whether the cross-examination by the alleged perpetrator may affect the testimony of the alleged victim and consider the impact that the cross-examination may have on the alleged victim.
Why is this being proposed?
A media release published by the Attorney General's department yesterday, highlighted that the amendments are being proposed due to concerns surrounding further trauma for victims as a result of being cross examined by their perpetrators. Moreover, this issue has been deemed a key area for reform during a 2016 summit concerned with reducing violence against women and children.
When will these changes take effect?
The proposed amendments to the Family Law Act 1975 are currently in draft which means that they have no date set for when they will take effect, nor is there any guarantee as to whether they will be introduced. However, the public is able to lodge Submissions in relation to the proposal until 25 August 2017.
Linda Kaczmarek is a paralegal at Farrar Gesini Dunn at our Canberra and Sydney offices.