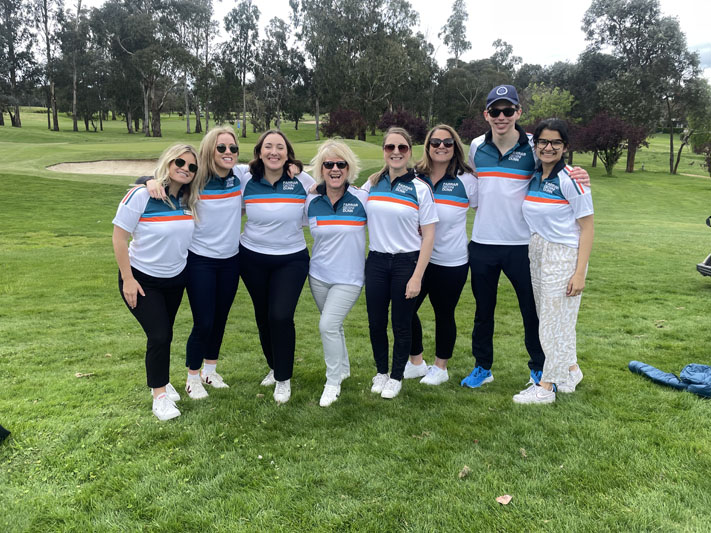 Ahead of our FGD Charity Golf Day last Thursday, the rain forecast was looking grim. All of us at FGD had our fingers and toes crossed for a beautiful day, and for the second year in a row, our wish was granted!
This year we continued to support Karinya House but also announced a second charity partner in Fearless Women. Fearless Women is a charity who focus on supporting girls and young women with mentoring and counselling services, while Karinya House's focus is supporting women through pregnancy and early parenting.
We are very pleased to announce that we have raised an FGD record breaking amount of $25,000 for the two charities which will be split evenly. We couldn't have done it without the support of all our players and amazing sponsors.
With just under 100 golfers joining us for the day, spread across 18 holes at Federal Golf Club, it was a fantastic day had by all. After Covid restrictions limited us last year to numbers and volunteer involvement, we were excited to have our donation holes back again. With a Happy Gilmore run up hole and a Cricket Bat Swap, all golfers were having a ball on the course and the FGD volunteers were quietly impressed with some of their cricket skills.
We also had some other activities out on the course including a gin tasting tent from our sponsors The Canberra Distillery, which was an absolute hit!
We are so grateful for all our amazing sponsors, please make sure you support all the fabulous Canberra businesses who donated prizes and money to such important causes. RSM, Slaven Torline, Canberra Distillery, BRASV Group, Boat House, Lazy Su, Axxe Canberra, Big River Distillery, Cockington Green Gardens, Collezione Santina, Cork & Glass, Four Winds Winery, Lonsdale Street Roasters, Momento Designs, National Dinosaur Museum, Paint & Pinot, Riddle Room Canberra, The Green Vine Plants, Blue Ink, Sharwood Hampers, Paddywack Promotional Products, National Zoo and Aquarium, Cork & Glass, Ziggy's Fresh, Shaw Winery, Birdsnest
The day ended with a presentation and drinks at the 19th hole. A big shot out to our winners and very generous sponsors…
1st Place (Laurence Stanton Memorial Cup) – Boat House & Canberra Distillery
Scarlett Financial – Domenic De Marco, Joshua White, Hamish Armstrong & Matthew Goodwin
2nd Place – Lazy Su
Michael Bogaart Painting – Michael Bogaart, Ves Pilatic, Lea Hansen & Matt Wilson
3rd Place – National Zoo & Aquarium
They Score When They Want – Aaron Coddington, Bernard Hardy, Phil Trenbath & Peter Harrington
Last Place – Ziggy's
MGI Joyce Dickson – Jacqueline Dowling, Matt Bramhall, Robbie Wilson, Candy Stephens
Longest Drives – The Green Vine Plants
Melissa Corujo & Michael Spaseski
Nearest the Pin – Cork & Glass
Candy Stephens & Matt Goodwin
Beat Dunny – Big River Distillery
Matt Goodwin, Will Comensoli, Adam Bak & Gerard Boundy
Lucky Door – Sharwood Hampers
Mac Howell
We cant wait to host everyone again next year for another FGD Charity Golf Day. Please see below some pictures from the day. If you would like to see some more photos of your team please let us know and if you have any photos please post and tag us using @farrargesinidunn & #fgdfun.