On Thursday 29 October Farrar Gesini Dunn hosted 148 players for our Annual Charity Golf Day at Federal Golf Club. Despite a wet week and the ever changing Covid-19 related restrictions we were able to gather together to support and raise much needed funds for Karinya House. As of lunch time today we have raised a total of $20,004.00, all going directly to Karinya House. This is a significant increase on last year, so thank you for your support.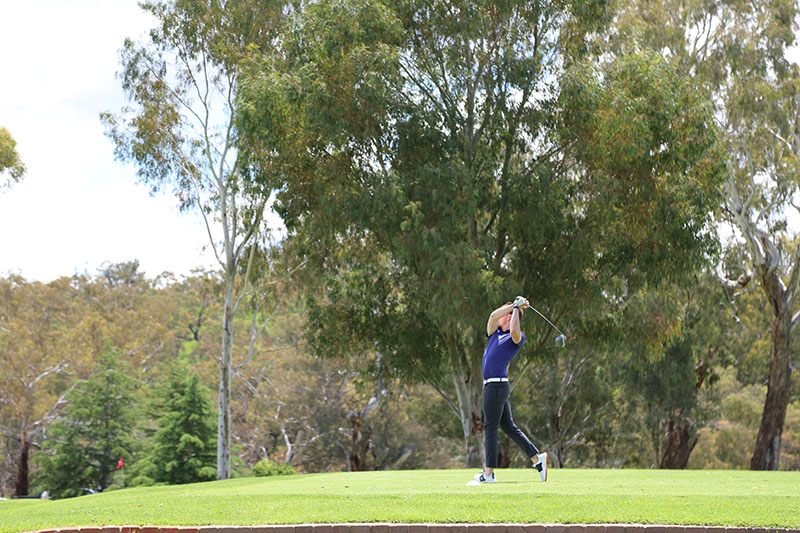 Karinya House is a vital Canberra charity who provide immediate support for women who are pregnant or have new babies and have nowhere else to turn. They provide safe housing, counselling, support during pregnancy and birth and connections to health, welfare, legal, educational and financial services.
A huge thank you to Karinya House committee member, Esther Bogart who came along to detail the amazing work Karinya House does and how they have been and continue to cope during the pandemic.
After lunch and a welcome by FGD CEO Jim Dunn all the players were off for a shotgun start, play was momentarily interrupted by lightening, but it was a chance to mingle back at the club house and have a chat and catch up with the FGD community, outside of your own team that we haven't seen this year (and were all really keen to catch up with!).
As is our usual style, we weren't going let our players get away with a stock standard round of golf. Nearest the Pin was sponsored by Cork & Glass on hole #8 with Solicitor Jess Win and Advisory team member Maddison Skotinis closely scrutinising participants' shots. The Happy Gilmore was up next on #11, yep, it is exactly what you are thinking, and was convened by Director Kasey Fox, Accountant Carmen Tronerud, and Solicitor Peta Jeffery. The Happy Gilmore is always a crowd favourite, we promise we have the blooper videos hidden away. Stacey & Mary from our Estates team were keeping an eye over the longest drive on hole #17 sponsored by Rodger Bartholomew and Birdsnest. On hole #18 players couldn't get around our second unavoidable game, swap your club for cricket bat, there were varying techniques, some hilarious, some slightly dangerous, but a lot of fun was had by all the players and our in house Child & Family Specialist Kristal Simson and Senior Solicitor Ramya Balachandren who were umpiring the shots. There was also an element of competition with the Inaugural Longest Bat sponsored by Viva Leisure at a massive distance of 149.5 meters.
Due to the lightening break, play continued a little later than normal but we were really pleased that many hung around to toast their success or down their commiserations following play.. and the winners were:
Nearest the Pin (male): David Cross

Nearest the Pin (female): Kaylene Beames

Longest Drive (male): Matt Goodwin

Longest Drive (female): Renata Hercok

Longest Bat: Luke Smith
Third (prizes thanks to National Zoo & Aquarium, Moxom & Whitney and Gelato Messina): The Dunny Cans; Jim Dunn, Andrew Berger, Dugald Laurie, Ian Bradfield
Second (prizes thanks to Sharwood Hampers and Shaw Winery): Schooner MacGavins; Domenic De Marco, Stephen Okkonen, Matthew Goodwin, Joshua White
Overall winners (thanks to Pilot Restaurant): Independent Property Group Belconnen; Daniel Beames, Denis Vidovic, Nathan Page, Dean Hill
We also have special mention to go to Matt Eggins who landed a terrific hole in one on the 16th, well done!
If you thought that wasn't action packed enough; my personal highlight of the day was an impromptu auction held by Phillip Kouvelis from Maloneys Property for a 2012 55th Anniversary Henschke Shiraz that had been recently donated to Karinya House. Originally this was to go to the overall winners however they kindly redonated for us to auction. A big thankyou to the Independent Property Group Belconnen; Daniel Beames, Denis Vidovic, Nathan Page, Dean Hill.
The opening bid was generous $1000 but a battle ensued between ACT Decks and two FGDers, Director Ann Northcote and CFO Matt Clacy, after a gallant effort by the blokes, Ann won the wine for $3200 all going directly to Karinya House.
A big thank you to our event sponsors; Slaven Torline, Parker Financial, Paddywack Promotional Products, Blue Ink, Ziggys Fresh and Pialligo Estate
Finally, a big thank you to Director JK Law for the photos throughout the day, if you would like a copy of the High Res versions (for framing or otherwise) please let me know. If you are sharing on socials, please make sure you tag yourself, @farrargesinidunn and use the hashtag #fgdfun.
If you are able to support Karinya House further or in an ongoing capacity, please make contact with them via their website today.
Look forward to seeing you all again next year.
Georgie & the team at FGD