Rewind to last Friday, 1 November 2019. To set the scene, it was a beautiful Canberra day, 31 degrees with a slight breeze under the huge trees at Federal Golf Club a crowd had gathered together polishing up their golf clubs and dousing themselves in sunscreen preparing for an afternoon out on the green.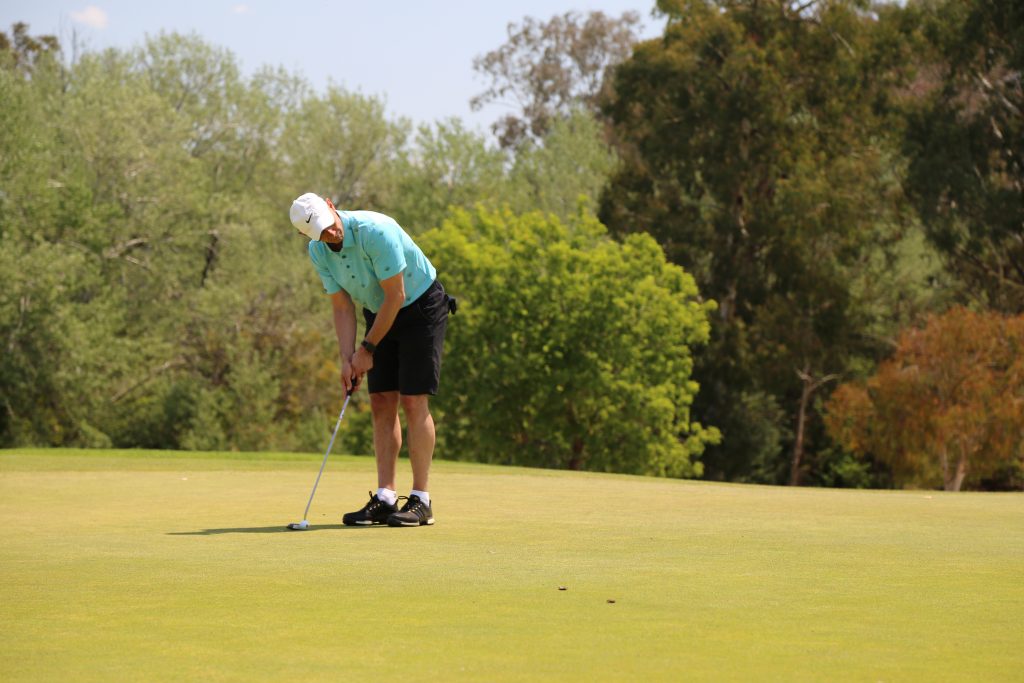 FGD proudly hosted 25 teams of golfers for our Annual Charity Golf Day, for the third year the charity chosen to support was Karinya House. Karinya House is a vital Canberra charity who provide immediate support for women who are pregnant or have new babies and have nowhere else to turn.  They provide safe housing, counselling, support during pregnancy and birth and connections to health, welfare, legal, educational and financial services.
A huge thank you to Sarah Kelly, Karinya House Committee President who came along to enlighten us all about the amazing work Karinya House does. If you are able to support Karinya House further or in an ongoing capacity, please make contact with them via their website today.
Before the shotgun tee off we paused for a moment to reflect on the passing of our dear friend and colleague Laurence Stanton. Larry as we knew him was a debonair gentleman, liked and respected by all, his passing has left a great hole in the day today and to the organisation.
After a burger in the clubhouse and everyone's snack bag fully packed, thanks to Blue Ink Office Supplies and Ziggy's Fresh the golfers were off! The serious golfers had their eyes on the prize from the siren blast, others were far more relaxed, taking in the sights and enjoying being out of the office soaking up the vitamin D.
Out on the course there was plenty of fun. Drinks and tunes were covered by FGDers John and Grace in the drinks cart. There were 5 generous hole sponsors throughout the course; Parker Financial, EY , Slaven Torline, Vincents and The Foregroup who had their banners on display.
FGDers Allie and Ramya were on hole #2 with the first Unavoidable Game 'Swap your club for a Cricket Bat' it was a great hole that challenges the golfers to think creatively before diving into their pockets to pay for a mulligan.
Hole #8 tested the players ability to land Nearest the Pin with a male and female prize from Lonsdale Street Roasters up for grabs.
Tim and Peta from the FGD Estates Team were manning hole #11 the second Unavoidable Game 'Happy Gilmore run up' this proved to be quite the laugh and surprisingly plenty of people commented "if only they could play every shot that way!" those who didn't make it on to the green were allowed a mulligan.
Thanks to Nathan from Mitchell Insurance Management on hole #10 there was a $10,000.00 blank cheque inspiring all the players to aim for a hole in one, Rachael and Jess from the FGD Estates Team, were keeping a close eye on proceedings and unfortunately it didn't get given away (here's hoping for a lucky winner in 2020!).
Hole #17 was a competition to see who could hit the Longest Drive, there were 2 prizes up for grabs provided by Federal Golf Club Pro Shop.
Raffle tickets were presented to each player on registration and available for purchase throughout the day. The prizes on offer this year were just incredible, the Canberra business community really blew us away with their support.
A huge thank you to:
Sharwoods Hampers
KIN Gallery
Mudd
Club Lime Braddon
The Lab
Birdnest
Frockaholics at Momento
Moxom & Whitney
Pilot
Pialligo Estate
Akiba
Kokomos
Howling Moon
Messina
It's the Goods
Bison Homewares
Shaw Winery
National Zoo and Aquairum
The Beautique
Cupitts Winery
Go Boats Canberra
Cataldos
Brumbies Rugby
Trevs at Dickson
ULLR ski lodge
At 5 o'clock when the sun was finally dropping all the players gathered back in the clubhouse for, depending on how you played, celebratory or commiseration drinks and nibbles to draw the raffle and announce the winning team.
The raffle was first – congratulations to each of the winners (I know there was some disappointed folks at the club and back at the office, but remember you have to be in it to win it!)!
Nearest the Pin: Jeff Roberts
Longest Drive: Pat Kinnane & Kate Whild
Overall winners for the day: on 54.25 Eastlake Football Club
Back at the office on Monday morning we crunched the numbers and are so proud to announce the most important bit that everyone has been waiting to hear.. drum roll please.. the total figure raised through registrations, raffles and mulligans to be deposited straight into the Karinya House account is $17,730.00! This was a huge effort by everyone who sponsored and attended so thank you all very much.
Thank you to JK from the FGD Business Advisory team for the photos throughout the day, we will post them to our socials so please make sure you tag yourself and use #fgdfun if you are sharing.
See you back on the green in 2020.
Georgie & the team at FGD