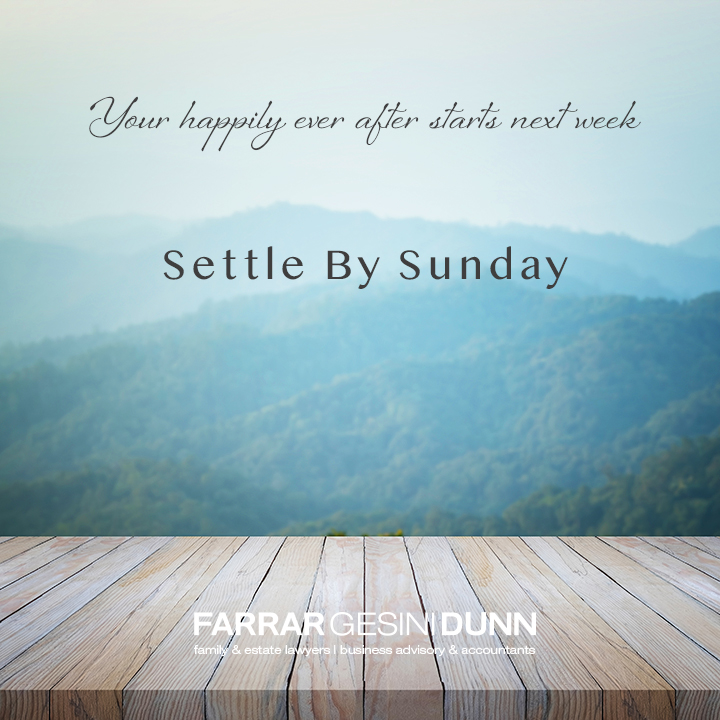 Ever thought "I just want my divorce done!" or "separating through lawyers is expensive"?
Well guess what? we are here to challenge those misconceptions!
If you, or a couple you know, is ready to settle their separation in a weekend – we want to hear from you!
We want to give you the best chance of settling your separation quickly and having certainty about the cost of getting there – so we have developed an out of court solution called 'Settle by Sunday'.
And guess what? we can do it for as little as $2,000 per couple!
What is Settle by Sunday?
'Settle by Sunday' is a robust and intensive settlement negotiation that occurs in a day or over a weekend, taking the mess and conflict out of a separation to reach a resolution. We understand that a separation can be an emotionally and financially turbulent time; there can be time taken to grieve and time taken off work to re-establish yourself.
Rather than fighting it out in an acrimonious court battle, we think the best outcomes are achieved when couples work together to recognise their collective and individual set of objectives and needs. As a team, Farrar Gesini Dunn and your chosen advisors then address those needs through the most appropriate process for your separation.
You could also jointly work with our experts such as the Business and Advisory Team in property matters and/or Child and Family specialists in children matters to help you reach the most optimal resolution.
What is the process?
You can choose! We offer a variety of models that we can tailor to your needs and/or budget, including:
Family dispute resolution;
Self-represented mediation;
Lawyer-assisted mediation; or
Collaboration.
Is the agreement final?
Yes. Any agreement you reached will be formalised in a way that works for you. Whether that is an informal parenting agreement or parenting plan, Binding Financial Agreement or Consent Orders; we do it all!
Why are we different?
We're specialists – we only do what we are good at. We use a network of trusted referrers to help you, but we stick to what we're best at.
We're client focused. We treat you like a person and not like a case. We want to discuss with you how we can best help you (like a doctor, not a mechanic).
We collaborate. We commit to helping you reach agreement without taking you to court.
We're offering our clients fee flexibility. We tailor our service to meet your needs. We offer certainty about fees, all the time.
Want to know more?
We are passionate about 'Settle by Sunday'. Meet with one of our 'Out of Court' team for a coffee (on us) to discuss the right process for you and a fixed fee for our service, give us a call on (02) 6181 2061.
Your happily ever after is just a weekend away!