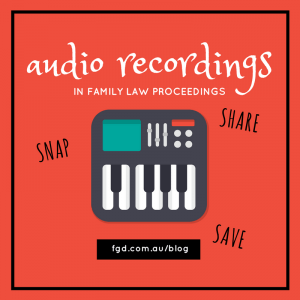 We often have clients ask us whether they can use recordings of conversations with their former partner or children as evidence in their family law proceedings.The case of Janssen & Janssen was a parenting case which involved serious allegations of domestic violence, including sexual abuse. The mother's application was for children to live solely with her and spend no time with their father. The mother argued that the children would be exposed to an unacceptable risk of physical and psychological harm.
She also argued that there would be an indirect adverse psychological impact on her parenting capacity if the children were required to spend time with their father.
The father's evidence minimised the allegations of domestic violence. The mother had taken recordings of conversations in which the father had made statements to the effect of "do you want to die tonight?", "I am going stab you with a knife" and "I wish your family would die."
The audio recordings and the transcript of the audio recordings were allowed to be used as evidence.
Ordinarily in the ACT, you are neither permitted to record a private conversation with a person without their consent nor use that recording in proceedings unless it is done to "protect the lawful interests of the principal party to the conversation who consented to the use of the device."
In finding that the NSW law's exception applied in this case, the Judge was satisfied that the mother's actions were reasonably necessary in light of her allegation that the father had a 'charming public face' but engaged in domestic violence in the home.
However, if you record a conversation without someone's knowledge or consent, you could be committing a criminal offence. So you should be very wary before you decide to take this step and seek professional advice.
If you are considering commencing Family Law proceedings, or have a matter already in Court, speak to one of our team about the best way to gather evidence in your family law matter.
Courtney Mullen is a Family and Estates Lawyer at Farrar Gesini Dunn, Canberra Office.