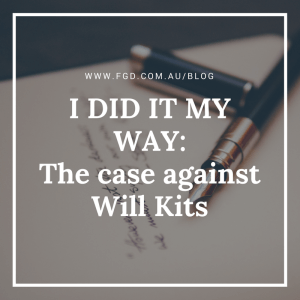 Why should I come to see a lawyer to do a Will – can't I just get a Will Kit? This is a question that I am often asked as an estate planning lawyer. I have tended to answer this question by saying that a person's circumstances or their instructions are seldom simple from a legal perspective and this means that mistakes are very common in Will Kits and additional (unnecessary) legal expenses or tax is likely to be incurred.
While this is certainly true, the bigger-picture answer is that the service I am offering is fundamentally different. A Will Kit is just that: a kit with which to prepare a Will. Estate planning services provided by a specialist estate planning lawyer are so much more than just a Will.
A Will Kit can't tell you which of your assets will be dealt with by the Will. This is important because your Will can only deal with those assets that form part of your Estate when you pass away. This means that gifts that you intend to make when you pass away may not happen because that asset does not actually form part of your estate when you pass away.
A Will Kit can't give you legal advice about your superannuation. This is a big deal since superannuation is often the most significant asset people have an interest in when they pass away.
A Will Kit can't give you advice about family trusts or private companies. This can be critical because if you have significant assets in a family trust or private company and you haven't turned your mind to the control of that family trust then the control may well pass to people you do not intend to control that trust.
A Will Kit can't explain to you in plain English what the words you have used will ultimately mean to a court with reference to the most recent law. This means you may not really understand the effect of the document you are signing.
A Will Kit can't warn you about potential litigation or tax risks or challenges to your Will (such as family provision) that may affect your estate when you pass away nor can it give you advice about how to mitigate these risks.
But a Will Kit can generate a valid Will… provided, that is, all instructions are carefully followed. However, you can bet that if a mistake is made the maker of the Will Kit will not be sympathetic.
As an estate planning lawyer I take pride in doing all of these things and more every day. I certainly believe Will Kits are valid products but they come with inherent weaknesses – weaknesses that even for a low level of complexity strike me as unacceptably high.
If you, your family, or friends have a Will Kit, and are concerned about whether it works, give the Farrar Gesini Dunn estate planning team a call to schedule a free Will review. We can also assist you with estate planning matters of any level of complexity.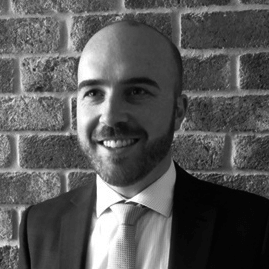 Timothy Morton is an estate planning and estate dispute specialist at Farrar Gesini Dunn, Canberra Office.