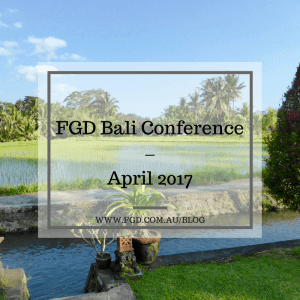 We think FGD is a pretty great place to work. Last month, our Directors took us to Bali for a Conference where we stayed at a beautiful Balinese resort, Puri Taman Sari in Tabanan Village, near Ubud. We all love the work we do, but getting to do it in such a beautiful setting made it even better!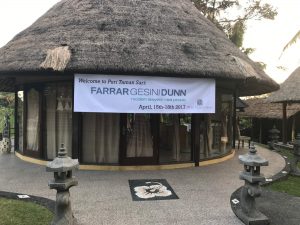 We spent three days at the Conference, during which we participated in some workshop sessions surrounding how we do things differently at FGD and how we can continue to improve our service to our clients. We had a session about improving our negotiation skills so as to always work towards a solution that is beneficial to our clients whilst maintaining a process that makes our clients feel good.
We were lucky enough to participate in two workshops run by guests Zoe Routh from Inner Compass and Peter Beames from DPR Accountants. Zoe is a leadership coach and provided us with an excellent leadership workshop in which we built on our teamwork and communication skills, particularly in relation to having difficult conversations.
Peter is an expert Accountant and he shared his knowledge of business and specifically how we can best understand and utilize that knowledge in relation to our clients who own businesses and may be dealing with a business as part of a family law property settlement.
Of course we were also lucky enough to have some free time to enjoy our surroundings, participate in activities such as rafting, cycling and an authentic Balinese cooking class run by Sarong Catering.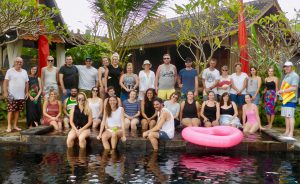 At FGD, our goal is to help and empower people with compassion and innovation. We think we do a pretty good job of that with both our staff and our clients but there is always room for improvement and we think that working on these goals, through an innovative platform such as our Bali Conference, works effectively for us and allows us to build on our skills to achieve our goal of empowering our clients.
By: Allie Johnson-Davey
Allie works in the management team at Farrar Gesini Dunn, Canberra Office.