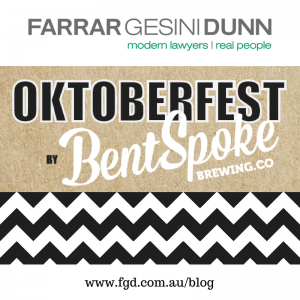 The Farrar Gesini Dunn Estates Team celebrated Oktoberfest in style with local Canberra brewery Bentspoke and German-style catering by Word of Mouth. The beer was excellent and the food was delicious.
We are always looking for ways to improve what we do. We have been thinking about how we can ensure clients who want access to our specialist estate planning services can do so and choose the basis upon which they engage us.
Many clients want to engage us because of our reputation as a First Tier Wills and Estates law firm in Canberra. However, some clients do not need or do not want a comprehensive, bespoke estate planning service.
Our estates team has spent considerable time developing our services so that our clients can have real choice about how they engage us. We are now in a position to formally broaden our service offering and give our clients an opportunity to access our services and skills.
During the formalities of our Oktoberfest celebrations we formally announced that we are now in a position to offer two distinct levels of service for clients who seek our estate planning services.
The first level is focused on clients who want a valid Will and Enduring Power of Attorney, but do not need or do not want to access our comprehensive, bespoke estate planning services.
This means that our clients can now access big firm expertise at small firm prices.
The second level of service is our complete, comprehensive, bespoke estate planning services. Many clients still want or need these services, but they will be able to choose.
We offer our estate planning services in Canberra, Melbourne and Sydney.
If you want to discuss how may be able to help you or your clients please contact our estates team at estates@fgd.com.au or 02 6181 2050.
Timothy Morton is an Associate Director at Farrar Gesini Dunn.